WHY USE SABUJ PREMIUM (Ready to use Soil Less Organic Potting Mixture):
A) 100% certified organic ready mixture for all plants.
B) Provides enough water holding capacity thus water is saved.
C) It is enriched with organic NPK and various other organic macro and organic micro nutrients
those are essential for plants leafy top growth, for good root growth and good quality fruit
production.
D) Application of SABUJ PREMIUM as potting mixture helps the plants to develop resistance
against diseases and pests infestation and keeps the plants in healthy condition.
E) Nutrient rich ready mixture ideal for vegetable, flowering, indoor and outdoor plants.
F) No other chemical fertilizer is required as this potting mixture provides complete food for
plants growth.
G) It is 100% pure, natural and Organic plant nutrient.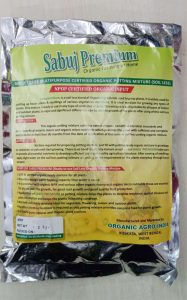 Description
READY TO USE MULTIPURPOSE CERTIFIED ORGANIC POTTING MIXTURE (SOIL LESS).
Sabuj Premium is a soil less blend of Organic ingredients used to grow plants. It is widely used for potting up house plants & seedlings of various vegetables and fruits. It is ideal medium for growing any types of plants. This mixture is ready to use in any type of container or pots. This mixture is well suitable for all types of indoor and outdoor plants. A major and significant differences can be seen in growth of the plants after using of this soil less potting mixture.
COMPOSITION:
This organic potting mixture contains vermicomposting, beneficial microbial inoculants and other beneficial organic macro and organic micro nutrients which provides the plant with sufficient and complete nutrients for at least 4 months from the date of application of this unique soil less potting organic mixture.
APPLICATION:
No time required for preparing potting mixture, just fill with potting ready organic mixture in growbags or containers or pots and start growing. There is no need to add any manure or soil as our SABUJ PREMIUM takes care to provide all essential nutrients to develop sufficient yield and quality agricultural produce. After sowing of seedlings apply slight water on the soil less potting mixture according to the requirement of the plants everyday through hand sprayer.
DOSE:
AS PER THE VOLUME OF THE POT.
INTERVAL OF APPLICATION:
FILL IN A FRESH POT AND REFILL WITH SABUJ PREMIUM IN EVERY 6 MONTHS INTERVAL.